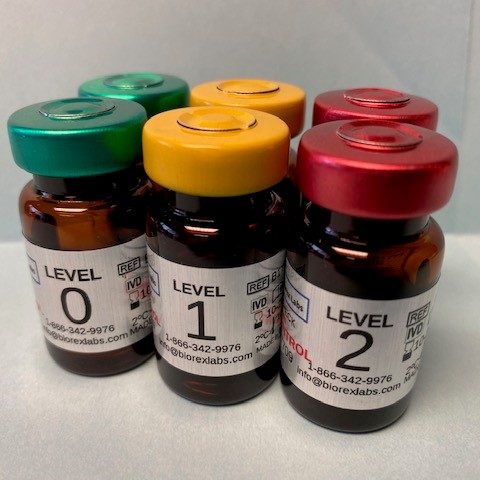 K-CHECK CONTROLS for serum, plasma/blood ketones determination
Cat. No. B1777
Opened Vial Good for 30 Days!
Expiration: 1 Year
Contains no animal or human derived products
Prepared with simulated serum matrix
Sold as 6 Vials, 5 ml Each / Box
Available direct or through major healthcare distributors.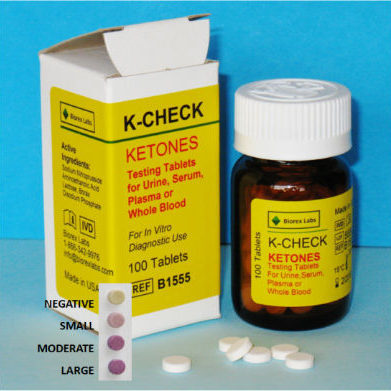 K-CHECK REAGENT TABLETS FOR KETONES
(acetone/acetoacetic acid) TESTING.
Serum, Plasma, Blood or Urine
Semi-quantitave /Qualitative
Can detect as little as 5 mg of acetoacetic acid
Formulation similar to Acetest®, Trademark used by Bayer Healthcare LLC
100 tablets/Bottle available direct or through major healthcare distributors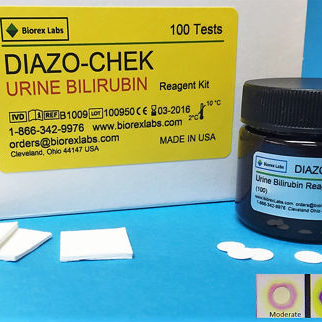 DIAZO-CHEK
Urine Bilirubin Reagent
Uses only 4 drops of urine
Detects as little as ~0.1 mg bilirubin per dl of urine.
Confirmatory test for results obtained by dipstick.
Includes precut bilirubin binding test pad squares.
Clear-cut results.
No. B1009.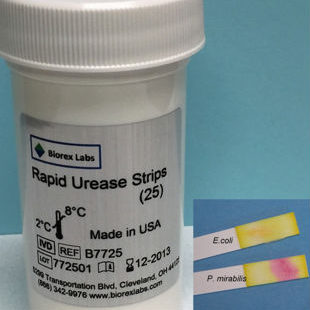 RAPID UREASE STRIPS
Results in as little as 5 minutes.
Just smear the growth onto the strip and add a drop of water.
2 Year Expiration.
No. B7725/B7750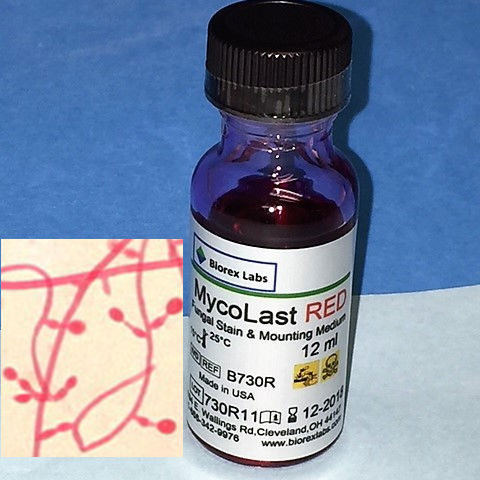 MYCOLAST RED
Staining and mounting medium for fungi
All-in-one red staining, mounting and clearing agent
Stains fungal elements RED.
Dries in few hours.
Better refractive index!
No sticky residues!
No. B730R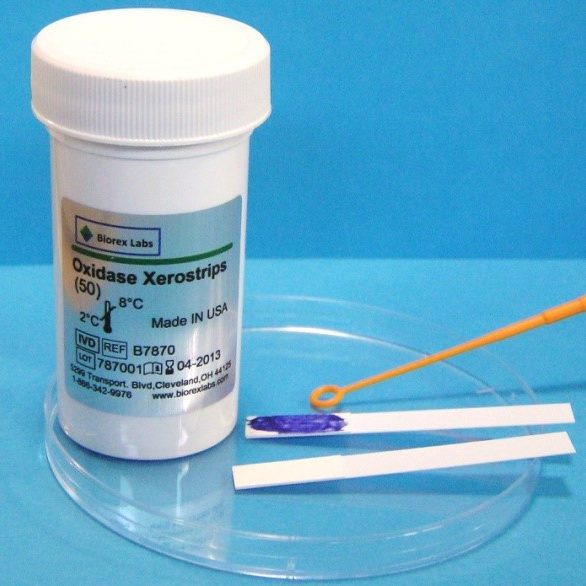 Oxidase Testing Strips
Dry reagent impregnated strips.
Pos reaction indicated by Immediate clear blue color.
Over a year expiration.
No. B7870.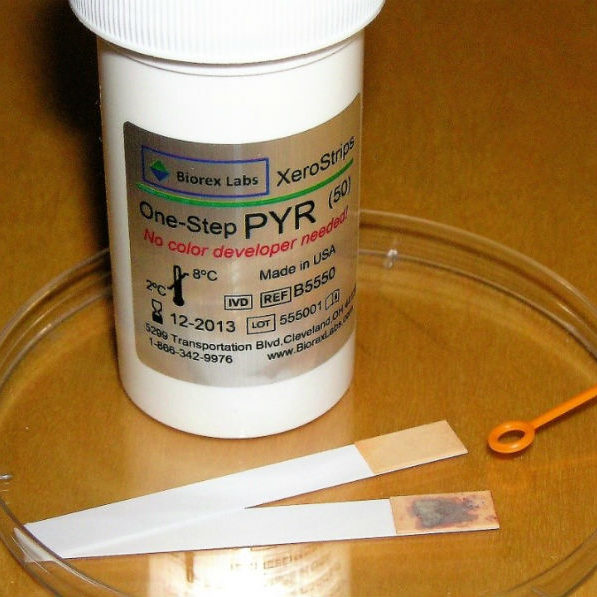 ONE-STEP PYR TEST STRIPS
No Color Developer Needed!
Just rub the colony onto the dry Strip.
Positive test indicated by grayish-blue color in 1-5 minutes.
Strong reactions visible in as little as 30-60 sec.
Cat No. B5550.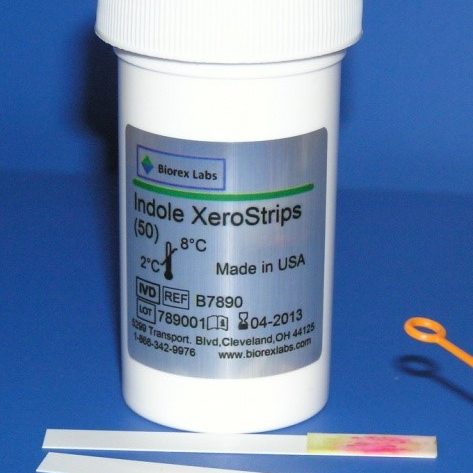 Rapid Indole Test Strips
DMABA based Dry Rapid Indole Strips.
Results in seconds.
Clear pink color.
One year expiration.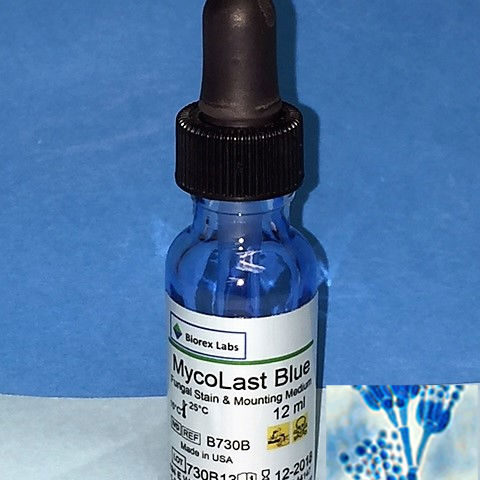 MYCOLAST BLUE
Staining and mounting medium for fungi
All-in-one staining, mounting and clearing agent.
Stains fungal elements blue.
Dries in few hours.
No sticky residues!
No. B730B.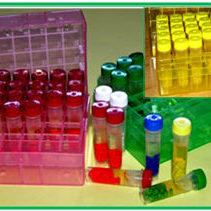 CryoBacTM Vials 
Culture Maintenance / Preservation system
Preserves QC cultures at a fraction of the cost of a lyophilized culture.
With or without ceramic beads!
Dual cryopreservatives.
TSB or Skim Milk based.
25 or 100/ Box Cat.No. B725, B700.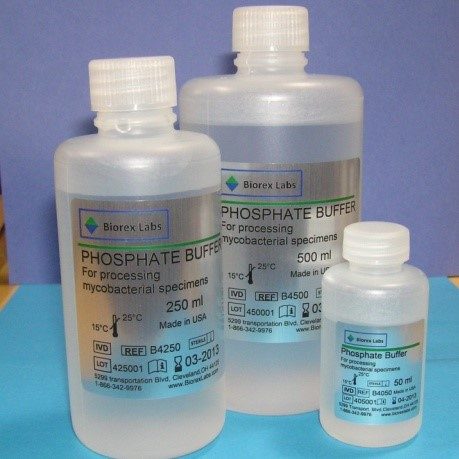 TB/AFB
Processing Reagents
N-acetyl L Cystine based NaOHdigestant.
Neutraization Phosphate Buffer.
BSA Solution for pellet re-suspension.
B4250, B3503, B2200.
You may order our products directly from Biorex Labs.
Please see the details to the right.  In addition, our product can be ordered through:
THERMOFISHER
CARDINAL HEALTH
MEDLINE
We are committed to making your experience with Biorex Labs one that fulfills your needs as our customer and delivers our promise to offer you exceptional service and quality products at a competitive price. We believe in serving our customer's needs to enhance patient care. Our promise is to meet or exceed our customer's expectations and we will strive our best to keep that promise!
Ordering Directly From Biorex Labs.
Please call: (866) 342-9976 or (440) 824-3000 from 9:00 am to 5:30 pm EST to place phone orders.
Via email, send your orders to [email protected]
Fax orders are received automatically 24 hours a day at: (440) 209-7776
When ordering, please use catalog number, name of item, and quantity., price quotations are available by fax or phone.
Please Note: Shipping & handling will be added to order totals as applicable.
Please Note: All orders containing temperature sensitive products will be shipped Next Day Air to domestic addresses from Biorex Labs, in the United States
For Direct orders we accept: VISA, MasterCard, American Express and Discover
Service fee of 3% will be added to all credit card orders over $5,000.00 USD
Minimum amount of order placed is USD 25.00 plus taxes and S&H fees.
(a) Please examine your shipments upon receipt for damage or discrepancies. If a problem arises with your shipment, please contact our Customer Service Department within fifteen (15) days. We will work with you to quickly resolve any problems.
Before returning any items, all returns must be authorized by Biorex Labs to insure proper credit. A Return Material Authorization (RMA) must be obtained by contacting our Customer Service Department. Not all items will be authorized for return due to temperature and packaging requirements. To be accepted for consideration by Biorex labs as a return for restocking, the product must be a currently listed product. Hazardous materials must be packed and labeled in accordance with the current D.O.T., I.A.T.A. or I.M.D.G. regulations and practices applying to the transportation of hazardous materials. Shipping documents must also meet D.O.T. regulations. Non-compliant shipments will not qualify for credit. Return shipping charges are the customer's/distributor's responsibility. Items returned without a RMA may not be accepted. To ensure proper credit, each Product return must include the following information: 
Customer Name and Address 
Purchase Order Number 
Biorex Labs Shipping Order Number 
Date of Invoice 
Catalog Number of Returned Item(s) 
Biorex Labs' Return Authorization Number 
Reason for Return
Authorized returns should be made within 30 days of issuance of a RMA. A 20% restocking charge will be levied on materials returned because of error on the part of the buyer. The seller shall be under no obligation to replace goods that have been lost or damaged by the carrier.
(b) Products not authorized for return:
Products purchased as Custom Orders 
Refrigerated items/products.
Products not purchased from Biorex Labs directly. 
Products with an expired shelf life 
Discontinued products 
Products with missing labels or broken seals.
Unless specifically advised, we will ship by UPS Ground. All materials requiring dry ice packaging must be shipped air express. All cold pack materials must be shipped via UPS's next day air service. For those hazardous chemicals covered by Department of Transportation and/or International Air Transport Association (IATA) regulations for flammable (red label) or hazardous items, we reserve the right to elect the most appropriate shipping method in order to comply with those regulations.